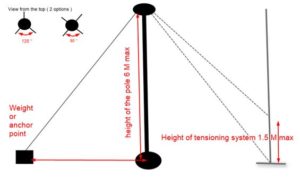 Height of 6 meters is required.

The Pole is guyed from its top towards 3 or 4 points of hooks (diagram seen from the top), the points of attachments can this place on the ground or to a maximum height of 1 meter 50.

The hooking points must withstand a tension of approximately 200kgs.

The hooking points can be ballast, lifting ring, IPN, water tank, sand bag, and clamp for the outside.